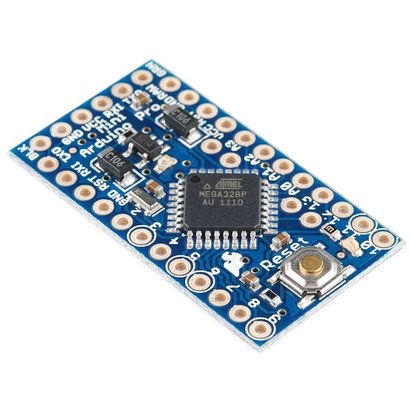 Arduino Pro Mini with header set
Availability:

In stock

Delivery time:

Will be shipped within 24 hours
Arduino Pro Mini, the smaal yet powerfull Arduino baed on the ATmega328 Chip including a small header set:
- Based on the ATmega328
- 14 Digital I/O Pins
- Of Which 6 a PWM
- 8 Analog Inputs A0 to A7
- 16Mhz Workingspeed
- EEPROM 512 bytes ...
More information
Product description
Availability:

In stock

Delivery time:

Will be shipped within 24 hours

Unit price:

€5,99 / Piece
Arduino Pro Mini
The Arduino Pro Mini is a small yet powerfull Arduino the Mini is based on the all known ATmega328 chip in a SMD package. The Pro mini does not have a USB interface for programming, you need to program the Pro Mini through serial interface, Not havingg a USB support makes the Pro Mini a lot smaller but not any less powerful.
The Arduino Pro Mini is capable of using the mini in combination with shields, however you need to build a headerboard in order to use shield on the Arduino Pro Mini, but it is also possible to use module wires to hook up the Mini to a shield. Basically any shield that is avalible for the Arduinp platform is capable to be used on the mini.
As said before the mini has no USB connector which makes programming the mini a bit more difficult, instead of using a USB to Serial controller the mini is directly programmable via RXD and TXD ports on the Arduino Pro Mini itself. The absence of the USB part on the mini makes sure that the mini is very compact in size, but although the mini is very compact its not a less powerfull Arduino board, its still basically the same as a Uno just in a very tiny package.
The Specification of the Pro Mini are:
Based on the ATmega328 Chip
Operating Voltage: 5V DC
Working speed: 16Mhz
Input Voltage: 5 to 12 Volts DC
14 Digital I/O Pins of which 6 can be used as PWM pins
8 Analog Pins A0 to A7
Max power per pin: 40mA
Status leds
Reset Function through tactile switch
Flash memory: 16Kb of which 0.5 is used by the bootloader
EEPROM: 512 bytes
SRAM 1 Kb
Over Voltage protection
Header set included
Auto Reset Function
Download the Arduino Pro Mini Specification package