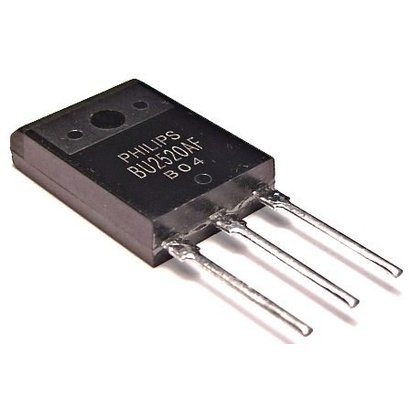 BU2520AF, High Power Transistor
Availability:

In stock

Delivery time:

Will be shipped within 24 hours
The BU2520AF is een high power transistors which is nowdays widely used in Tesla Coils and other high voltage appliances
- 1500 Volt DC
- 10 Ampere
- SOT199 Isolated Housing
- Used in Tesla Coils ...
More information
Product description
Availability:

In stock

Delivery time:

Will be shipped within 24 hours

Unit price:

€1,99 / Piece
The BU2520AF is a High Power transistor for switching high Voltages, they where used in the past as switching transistor for Flyback transformers in Televisions. Nowdays they have found there way in making Tesla Coils and other high power appliances, such as MIG and TIG Welding machines.
Setting up these transistors in paraalel gives you a switching capability of very high loads. Just one of these is capable bof switching 1500 Volts and 10 Amperes, imagina if you set up multiple of these to switch even biggger loads.
Specifications:
Switching Voltage: 1500 Volts DC
Switching Current Continuees: 10 Ampere
Switching Current Peak: 25 Ampere
Housing Type: SOT199
Type of Transistor: NPN
DATASHEET: