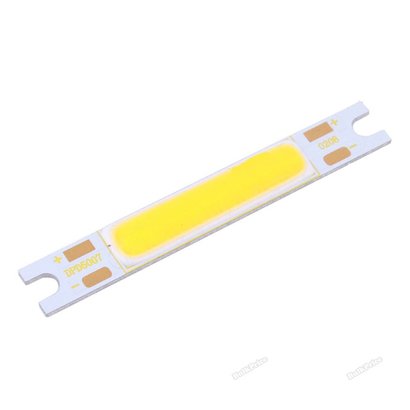 COB LED 3 Watt Short Warm White, Extremly Bright
Availability:

In stock

Delivery time:

Will be shipped within 24 hours
COB LED (chip on board) 3 Watt Round Warm White, Extremely Bright High Power LED's. 12 Volt 350mA MAX!
- Warm White
- Rechtangular small
- 3 Watt
- 12 Volt
- 350mA MAX ...
More information
Product description
Availability:

In stock

Delivery time:

Will be shipped within 24 hours

Unit price:

€3,99 / Piece
These COB LEDs which stands for Chip On Board are very smaal in size measuring just 2.8 Cm long and just 2 mm High, are capablle in delivering an extremly bright light. They operate on 10 to 12 Volts and with a maximum of 350mA.
These COB Leds tend to get very hot very fast so cooling them is a must, you can glue them on a heatsink with our themal glue or simpley clamp the LED on to a heatsink using screws. In the LED are tiny size cuts in which a screw can be used to clamp the LED onto its base
Specifications:
LED Color Temperature: Warm White 3000 / 3500K
Operating Voltage: 10 to 12 Volts DC
Maximum supplied power: 350 mA ( Must not exceed this )
Connections: On both side there are + and - avalible
Size: 2.8CM x 2mm
Light Angle: 180 Degrees
Luminous Flux: 200 to 250 LM
Total Power: 3 Watt