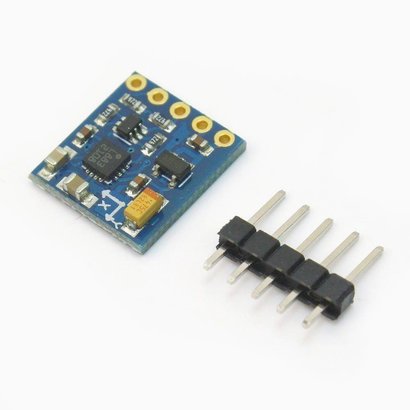 Compass Sensor Tripple Axis HMC5883L, Magnetometer
Availability:

In stock

Delivery time:

Will be shipped within 24 hours
This Compass sensor, suitable for Arduino, PIC, AVR, Atmel and so on is widly used in seaches, geocaching, sailing, fishing on open water and so on.
- I2C Communication
- Input 3.3 to 5 Volt
- Tripple Axis
- Small Size
- Gold Plated Contacts ...
More information
Product description
Availability:

In stock

Delivery time:

Will be shipped within 24 hours

Unit price:

€3,10 / Piece
This Campass Module, is very suitable to locate your position while doing searches in lagre open or wooded area's, while fishing on open water like sea's and oceans, Geocaching, Night Dropping, Search Party's and many more
The Module is very small and operates on just 3.3 to 5 Volts, the communication protocol is based on I2C and the power sunsumption is very low.
The Sensor is based on the HMC5883L Chip from Honywell, the datasheet of this chip can be downloaded below.
Other Specifications:
HMC5883L Sensor ( Tripple Axis Magnetometer )
Input 3.3 to 5 volt DC
Communication: I2C
Range: +/- 1,3 to 8 Gaus
Size: 13.9 x 18.5 mm