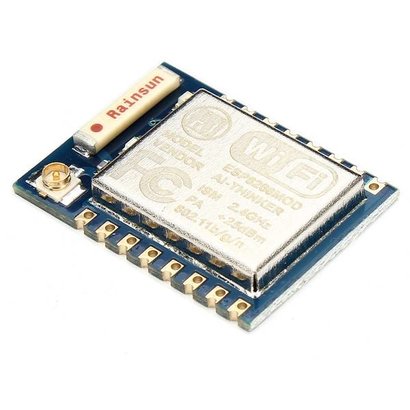 ESP8266, ESP-07 Direct Wifi B/G/N/ Module
Availability:

In stock

Delivery time:

Will be shipped within 24 hours
ESP8266 ESP-07 Direct Wifi Module, Suitable for Arduino, ARM, AVR, PIC, Atmel, Raspberry Pi and many more.
- Build In TCP/IP
- Wifi Direct P2P, SOFT-AP
- B/G/N Connectivity
- Very Small Size
- ESP-07 ...
More information
Product description
Availability:

In stock

Delivery time:

Will be shipped within 24 hours

Unit price:

€5,25 / Piece
ESP8266 ESP-07
De ESP8266 WIFI module is een TTL "Serieel naar internet" module. Deze module maakt het mogelijk om gemakkelijk met een Wi-Fi signaal te verbinden. Deze heeft een hoop kracht verborgen in een kleine verpakking, er kan tot wel 1A worden verbruikt voor het verzenden van signalen.

Eigenschappen

Voltage: 3,3V
Ondersteunde types: 802.11 b/g/n

Features:
- Wi-Fi Direct (P2P), soft-AP
- Integrated TCP/IP protocol stack
- Vermogen: +19.5dBm output in 802.11b modus
- Verbruik wanneer uit: < 10uA
- Communicatie: SDIO 1.1/2.0, SPI, UART
- Wake up tijd: < 2ms
- Standby verbruik: < 1.0mW

Type: ESP-07

- 2x7 2 mm pads aan de zijkant
- Ingebouwde keramische antenne
- IPEX connecor voor externe antenne
- 9 GPIOs: GPOI 0 / 2 / 4 / 5 / 12 / 13 / 14 / 15 / 16
- UART URXD / UTXD
- RESET en CH_PD (powerdown)