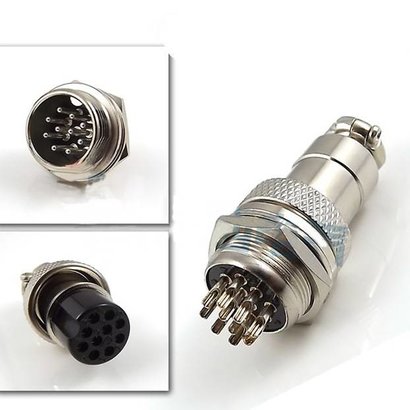 GX16-10 Connector, 10 Pins Power Connector
Availability:

In stock

Delivery time:

Will be shipped within 24 hours
GX16-10 Connector. A Power connector with 10 connections, used for the connection between modules and elements as well as Power applications.
- 10 Pins Connector
- With Turn Locking Ring
- 4 Ampere Power Rating
- With Safety Clamping ...
More information
Product description
Availability:

In stock

Delivery time:

Will be shipped within 24 hours

Unit price:

€2,75 / Piece
Description:
GX16-10 Connector, are known from the aviation industry, they are used to connect modules and elements to eachother that are subjected to movemend or vibration.
The Connectors are fitted with a Screw Lock Ring. With this you can lock the plug onto the bus thus preventing the connector to disconect itself by vibrations.
GX Connectors are now widley used for more then just the aviation industry and have found there way into Cars Busses, Boats, Ships, and many more.
But also for the electronic hobbyist these connectors are used such as in Robotics, Aurduino, Lighting and much more.
They are excelent for the use of profiding power to a device or for controlling it.
Features:
- 10 Pins Connector
- With Turn Locking Ring
- 4 Ampere Power Rating
- With Safety Clamping