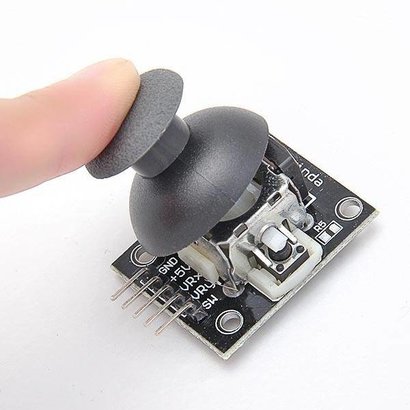 Joystick Module KY-023 - XY-Axis
Availability:

In stock

Delivery time:

Will be shipped within 24 hours
Joystick Module KY-023 - XY-Axis
- X Axis
- Y Axis
- Pushbutton Z Axis
- Input 5 Volt ...
More information
Product description
Availability:

In stock

Delivery time:

Will be shipped within 24 hours

Unit price:

€2,25 / Piece
Joystick  Module KY-023  -  XY-Axis


Product Description
This joystick module can be used in robotic projects and is very similar to analog joysticks used for gaming. It is made by mounting two potentiometers perpendicular to each other. They are connected to a short stick centered by springs. These two potentiometers enable us to sense dual axis( XY ) movement of the stick. It also has a select button which is actuated when the stick is pressed down in the Z direction. This Joystick Module can be easily interfaced with Arduino Boards, Raspberry Pi and Microcontrollers using Analog to Digital Converter.
Pin Out
GND – Power Supply Ground
+5V  – 5V Power Supply
VRx – X axis output voltage
VRy – Y axis output voltage
SW – Select button output voltage
The analog output will be around 2.5V in both VRx and VRy outputs when the stick is in the center position. It varies to 5V and 0V when the stick is moved to and fro