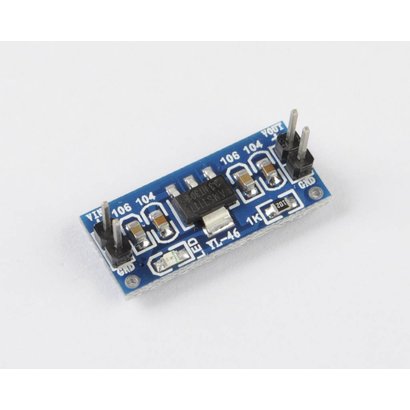 Micro Step Down Module, 3,3 Volt Breadboard Module
Availability:

In stock

Delivery time:

Will be shipped within 24 hours
Micro Step Down Module, suitabler breadboards or mountable on a header directly onto your PCB
- Super Small
- Input: 4.5 t/m 7 Volt
- Output: 3.3 Volt
- 800mA Power
- With Power indicator ...
More information
Product description
Availability:

In stock

Delivery time:

Will be shipped within 24 hours

Unit price:

€0,99 / Piece
This micr ostep down converter packs a punch even with its micr osize of just 25 x 11 mm, this little one can handle load up to 800mA
This small module is suitable to be used on breadboards for testing, and if your project is done testing and you want to build it on your circuitboard just can just simply solder it directly onto you PCB or use a female header so that you are able to swap out the module, should the worst happen.
Specifications:
Input Voltage: 4.5 to 7 Volts DC
Output Voltage: 3.3 Volts DC
Maximum Power: 800mA
With Power indicator led (red)
Dual Row Headers for input and output
Size: L: 25mm x W:11mm x T:1mm
!!! Attention !!!
The input voltage needs to be at least 1 volt higher then the output voltage, and the maximum power must not exceed 800mA. If you need more power from the module, it is possible to use 2 or more of them in paralel, 2 of them wil give a max of 1.6A, 3 of them will give 2.4A and so on. Beside stacking up modules in parallel there is also an option with an external circuits to increse the max power of the module. this same circuit is also used in 78xx and 79xx Fixed voltage regulator circuits as well as in 317 and 337 variable voltage regulators, an example of this circuit
can be found here