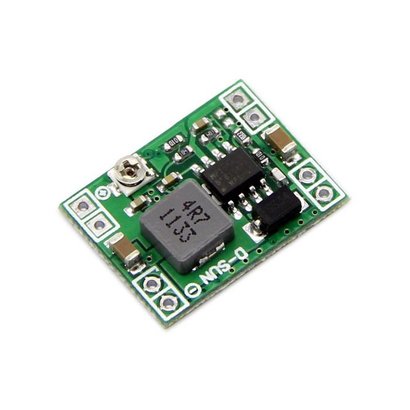 Mini Step Down Module 3A, Small Yet Powerfull
Availability:

In stock

Delivery time:

Will be shipped within 24 hours
Mini step down modlue 3 Ampere, Adjustable. Widely Used in Modeltrains, boats, helicopters, Drones and Airplanes due to there smaal yet powerful size.
- Input: 4.5 Volt to 28 Volt
- Output: 0.8 to 20 Volt
- Power: 3 Ampere
- Small Mini Size ...
More information
Product description
Availability:

In stock

Delivery time:

Will be shipped within 24 hours

Unit price:

€2,10 / Piece
A Small mini step down converter, with maxi properties.
This little yet powerfull little PCB are widely used in the world of Modeltrains, Helicopters, Boats, Drones and Airplanes, and besides that have found there way into the world of Arduino.
With a high input range ranging from 4.5 Volts to 28 Volts, it is clear the this little one is a wide input, but also the output is all but narrow, the Output range from this module ranges from only 0.8 to 20 Volts.
But what this little fellow makes it so special is de pure power it can handle, with a maximum of 3 Ampere on this small little one it is clear it has a lot to offer
Specifications:
Input voltage: 4.5-28V

Output Voltage: 0.8-20V (adjustable)

Output current: rated current 3A(MAX).

Switching Frequency: 1MHz

Output Ripple:less than 30mV

Efficiency:96%(max)

Operating temperature: Industrial grade (-40 C to +85 C)

Module Properties: Non-isolated step-down module (buck)

Size:22*17*4mm
Reviews