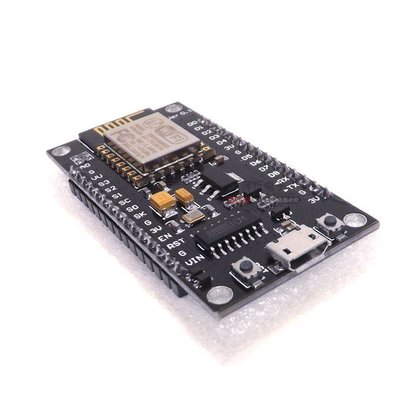 NodeMCU Lua v3.0 ESP8266
Availability:

In stock

Delivery time:

Will be shipped within 24 hours
NodeMCU Lua v3.0 ESP8266 met 10 x GPIO, I2C, SPI, API, PWM and WIFI
- 10 x GPIO
- API Mogelijkheid
- WIFI
- PWM
- I2C ...
More information
Product description
Availability:

In stock

Delivery time:

Will be shipped within 24 hours

Unit price:

€7,25 / Piece
The Development Kit based on ESP8266, integates GPIO, PWM, IIC, 1-Wire and ADC all in one board.
Power your development in the fastest way combining with NodeMCU Firmware!USB-TTL included, plug&play          
10 GPIO, every GPIO can be PWM, I2C, 1-wire
FCC CERTIFIED WI-FI module, PCB antenna
Features:
Open-source, Interactive, Programmable, Low cost, Simple, Smart, WI-FI enabled
Arduino-like hardware IO
Advanced API for hardware IO, which can dramatically reduce the redundant work for configuring and manipulating hardware.
Code like arduino, but interactively in Lua script.                        
Nodejs style network API
Event-driven   API for network applicaitons, which faciliates developers writing code   running on a 5mm*5mm sized MCU in Nodejs style.