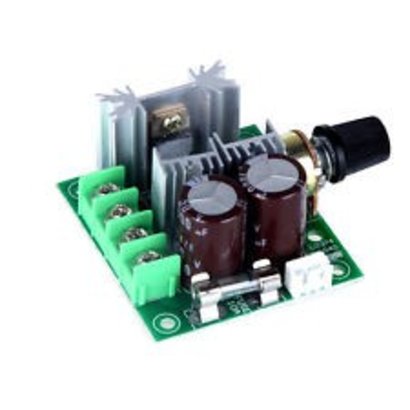 PWM generator 13KHz
Availability:

In stock

Delivery time:

Will be shipped within 24 hours
PWM Generator 13KHz for controlling DC motors and more
- Power: 12V ~ 40V DC
- Power: 10A
- Frequency: 13Khz
- Duty Cycle 10 ~ 100% ...
More information
Product description
Availability:

In stock

Delivery time:

Will be shipped within 24 hours

Unit price:

€7,25 / Piece
PWM generator 13KHz
Input supply voltage: DC 12V ~ 40V
The maximum output power: 400W
The maximum continuous output current: 8A
The overload and short circuit protecting current is 10A
Static current: 0.02A ( Standby )
PWM frequency: 13KHz
Duty Cycle adjustable: 10% ~ 100%
The operation environment temperature: -20°C ~ 40°C
The 10A fuse with reverse connection of power supply and control voltage over-voltage protection function
Size: 6 x 5.5 x 2.8cm (L x W x H)
Note:
This can NOT be used to the BRUSHLESS motor.
The controller is NOT reverse-polarity protected and will be damaged if connect the supply voltage with wrong polarity.
Double check all connections before applying power and always turn off the power supply before making any wiring changes.