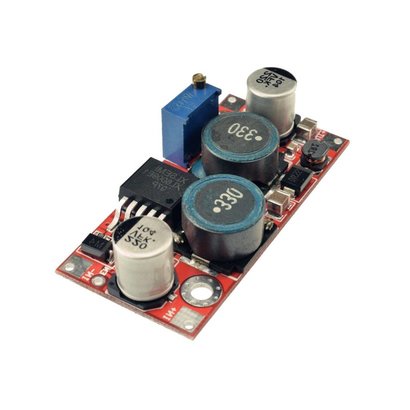 Step up and Down module, 3A Adjustable
Availability:

In stock

Delivery time:

Will be shipped within 24 hours
A adjustable Step up and down module, suitable for stabilizing a preset voltage with a maximum load of 3 Ampere
- Maximum Power: 3A
- Input: 3.8 Volt DC to 32 Volt DC
- Output: 1.25 Volt DC to 35 Volt DC
- Non Isolated
- Small Size ...
More information
Product description
Availability:

In stock

Delivery time:

Will be shipped within 24 hours

Unit price:

€3,99 / Piece
Description
These modules are commenly used for stabilazing a voltage in cars, carevans, trucks and boats
The operation of the module is super simple, you just set a voltage for example to 12 volts for powering a Led Strip. When the input drops to 7 volts the step up part of the modules springs into action and boosts the 7 volts to 12 volts and stabilizes the output. But when the input then rises to 24 volts the step down part of the module kicks in and bucks the input to the preset 12 volts in thus this module keeps your adjusted output to where it belongs regardless of the fluctuating input.
Specifications:
Technical parameters:
Model Specification:DSN6000AUD Automatic Buck module
Module Properties:Non- isolated boost (BOOST)
Rectification:Non- Synchronous Rectification
Input Range:3.8V ~ 32V
Output Range:1.25V ~ 35V
Input Current:3A ( max ) , no-load 18mA (5V input , 8V output , no-load is less than 18mA. Higher the voltage , the greater the load current . )
Conversion efficiency:< 94% ( greater the pressure , the lower the efficiency )
Switching frequency:400KHz
Output Ripple:50mV ( the higher the voltage , the greater the current , the greater the ripple )
Load Regulation:± 0.5%
Voltage Regulation:± 0.5%
Operating Temperature:-40 ℃ ~ +85 ℃
Application:
Car regulator , solar photovoltaic, wind power and other applications of voltage instability .
Auto start voltage will be pulled down to 7V less or smaller engine at high speed when the voltage up to 15V or higher. For 12V electrical work hard at work, this automatic buck module solves this problem , regardless of the input voltage is 5V or 12V or 32V, the output can be stabilized at 12V.
Reviews